Can I Contribute to this Website?
Absolutely! There are so many Falcom games that I haven't played all of them myself. I will accept posts to celebrate the Falcom fandom, as well as offerings of suggestions for Translation Tuesday.
As a note: if you have the source for a Translation Tuesday suggestion, it will make life much, much easier for me.
I once had a wiki, but that got to be a pain to maintain while working on this site at the same time. But if you're interested in information on the Trails/Kiseki series, feel free to check out Gu4n's Kiseki Wiki!
To reach out to me, contact me either on twitter: (@EndlessHistory is the site's twitter, and @omgfloofy is my personal twitter. You can also use the Contact Page if you don't like twitter's character count restrictions. (Don't worry! I fully understand on it, too. ;D)
Can I Use Translations from this Site?
General Translations
All translations on Endless History have been written specifically for the website itself. There is no need to contact me if you are doing a partial quote from an article. However if you wish to use the entire text from an article on the site, please reach out to me first via the contact form, using the 'translation usage request' option. Usage requests will be responded to via email as soon as possible. If there are multiple translators, or a guest translator is involved, this process may take longer, as I will need to reach out to the guest translator and verify that they are okay with the translation being used elsewhere as well.
As a note: I am very likely to oblige to such requests, but I may be more difficult if I find such translations used without permission.
These rules do not apply to content written specifically for Translation Tuesday. Please see the section below regarding Translation Tuesday usage.
Translation Tuesday
With one specific exception*, any content specifically used for Translation Tuesday cannot be taken from Endless History in whole. Excerpts may be used as quotes in discussions, but please reference the specific feature in question rather than quoting documents in their entirety. If you have questions regarding this, or requests for different presentation of current Translation Tuesday features, please reach out to me via the contact form, using the 'general feedback' option.
This does include image content created for Translation Tuesday, such as the Ring of Judgment scanslations. Rehosting of these images is strictly prohibited. Please do not do this.
* Express permission has been given to Guan and limited individuals who maintain Kiseki Wikia to use Translation Tuesday translations, due to Guan's participation in these features.
What About [Insert Name Here] Translation Project?
I make it no secret that I belonged to at least one translation group in the past, the primary one being Eidenyaku. In the past, I didn't want to field too much on translation groups, but now that I'm turning my focus to more of the fandom of Falcom's games, they're fair game.
However, I don't have too many resources on keeping up with current translation groups. If you know of one, or belong to one and want coverage of your work, feel free to reach out to me via twitter or my contact page to ping me and let me know! I'll happily jump in on that.
Help me! I'm stuck at [such-and-such] place in [this] game!
Unfortunately, I don't intend this site to be focused on helping with the games themselves. I don't have the resources or time to be able to focus on gameplay advice. However, if you're having trouble with any of Falcom's games, I can point you to some resources for help.
Does Falcom's Online Store Take International Orders?
They do! There will be a considerable amount of communication via email, however, so it would be understandable if you're not comfortable with transmitting contact and payment information through this method.
If this is your first time to order from Falcom, get in touch with your credit card provider to make sure they have no problems with you ordering from Japan. I've run into issues with this with my bank. You just have to notify them ahead of time, otherwise they will automatically decline the charge.
Another thing to be aware of, is that you get a charge immediately, but it won't be there a couple of days later. This is a test charge. They will eventually do the charge anywhere between a month to two months afterwards. So make sure you remember that the amount is used, because you never know when it will hit.
Falcom ships all orders via EMS, which will require a signature at the door. For US orders, this will usually result in having to pick it up at the post office if you're not available to sign for the order. For European orders, this also means that there may be additional customs charges on any orders as well.
How Do You Place an International Order?
First, visit the Falcom Customer Support Page>.
Take the lower left option, pictured above, for 'Mailorder -before-' and you will have a simple form to fill out.
Select the first option for overseas order from the dropdown, then fill out your email address and re-enter it to confirm it. When done, click submit.
After you submit the form, you will receive an email to the address you entered. This is the email address you will do your order from, as you will not have a chance to change it on the next form.
The email you receive will contain a link that will expire 15 minutes after it was generated. Be sure to use it before the link expires.
The link will take you to a new form.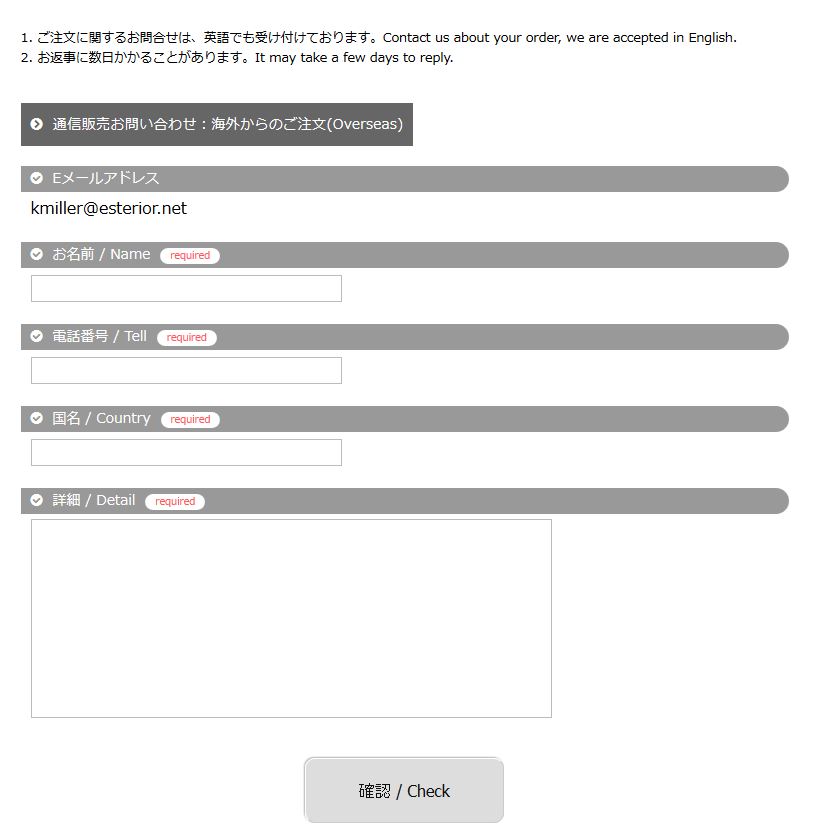 Filling out the new form is straight forward- You will not be able to change your email address, first.
Then you enter your name, telephone number, country, and in the details, you can enter the items you wish to order. In other forms, the details form only allows for 2000 characters, so you may have the same limit here, as well.
Here, you can try to enter the form as it has been done via email in the past. As a heads up, the form does go through an HTTPS connection, so it is, at least secure. Otherwise, there are two ways you can go about this.
The first way is the original, where you could simply dump all the info into the email. (Make sure you include item numbers, too!)
See the example below:
Hello! I would like to order these items:

* 0823 – Weekly special: Zwei!! + Zwei!! soundtrack +
Xanadu Next soundtrack + jdk Band Live DVD
* 860 – Ys: The Oath in Felghana Special Edition
* 888 – Xanadu Next
* M047 – jdk Band 2008 Spring
* M008 – Falcom jdk Band 1
* M041 – Eiyuu Densetsu FC & SC Super Arrange Version

I will pay with credit card:

Card type: VISA
Card name: John Q Example
Card number: 1234 5678 9012 3456
Expiration: 06/12

Billing address:
John Q Example
Apt. 42
123 Fake St.
Feenaville, RI 90210
U.S.A.

Shipping address:
John Example
c/o Exampleco Industries
9292 Mexican Hat Dance Blvd.
Lilia Springs, RI 90211
U.S.A.

Thank you very much!
Otherwise, you can try just listing the items you want to order in the details box:
Hello! I would like to order these items:

* 0823 – Weekly special: Zwei!! + Zwei!! soundtrack +
Xanadu Next soundtrack + jdk Band Live DVD
* 860 – Ys: The Oath in Felghana Special Edition
* 888 – Xanadu Next
* M047 – jdk Band 2008 Spring
* M008 – Falcom jdk Band 1
* M041 – Eiyuu Densetsu FC & SC Super Arrange Version

Thank you very much!
I'm using my Sen no Kiseki II PS3 preorder as an example, as I followed through the second step for that order.
I sent them the initial email saying I was in the US and wished to order Sen II PS3. The email I received in response follows:
It was after that email that I responded with the payment information, following the form they included in the email.
You are free to use either of these two methods, but I've yet to fully test the new ordering process since they opened the new support portal. I'll update this once I make an order from it that way and know for sure.
Make sure you double-check your emails, of course. If there are any errors send another response, and explain the errors in the simplest, most basic English you can (imagine you're talking to a child: use small words and unambiguous sentences as often as possible).
They should correct the errors quickly and email you back with a revised version of the above email. As long as everything looks right, there's no need to do anything else: your order will be shipped via EMS on the date listed, and arrive at your doorstep within 3 or 4 business days afterward. The only downside is that EMS requires that the addressee or his/her agent sign for the package, so if you can get it sent to your workplace, that's probably a better option than having it sent to your home. Worst case scenario, though, is that you'll be forced to drive to your local post office and pick it up.
For readers outside of the US, I've heard that in some cases, there are some customs charges from Falcom still, so this is something to remember as well.
Falcom Responded to My Order Request in Japanese! What Do I Do?
I was sent information about Falcom responding to an order request to someone in Japanese instead of English. As a result, I've posted the Japanese that they replied with, and will translate it, though it is pretty much identical to what you receive in English.
ご注文に必要な情報をお知らせください。
※「APO」または「FPO」から始まる住所へは送ることが出来ません。
※郵便番号がある場合は必ず記載をお願いします。
★発送先
■ご住所:
■お名前:
■お電話番号:
★カード情報
■種類:(JCB.UC.VISA.Master.DC.NICOS.AMEXのいずれかのみ)
■所有者名:
■所有者のご住所:(送付先のご住所と異なる場合はお書き下さい)
■カード番号:
■有効期限:
それでは、お返事お待ちしております。

As commented earlier, while it is the exact same, I've provided a translation of the Japanese below so that you know what you're expecting from it, as well.
We need the following information to complete your order.
* We are unable to send to any addresses that begin with APO or FPO.
* If there is a postal code, please include it.
★ Shipping Destination:
■ Address:
■ Name:
■ Telephone Number:
★ Credit Card Information
■ Card Type (JCB, UC, Visa, MasterCard, DC, NICOS, American Express):
■ Cardholder Name:
■ Cardholder Address (if it is different from the shipping address):
■ Card Number:
■ Card Expiration Date:

Does this Site Have Any Affiliations?
Yes.
For disclosure, I have affiliate programs setup with both Amazon (US) and Play-Asia. Though the Play-Asia affiliate system hasn't been fully implemented to the site, I do have Amazon affiliate links on the site.
However, I do disclose any links that I will get some money from as being used to support the site. The Amazon shop on the sidebar, as well, serves as part of this as well.
For additional disclosure, I earn 5% of any albums purchased, but if you continue to shop from my affiliate link, various categories are different percentages.
I do plan to tweak the Amazon Affiliate program to other regions, but for now, it is only for the US region.