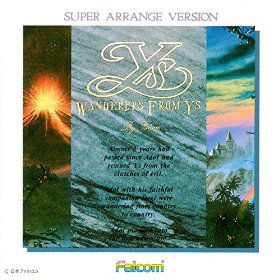 One of the classic albums for Ys III the Wwanderers from Ys has been made available for digital purchase.
As always, the links in this article are for Amazon.com, but as Falcom is making these available on multiple regions of Amazon (by posting them on Amazon.co.jp), if you can't purchase digital albums from the US site, then check your own region- they may be available there as well.
This album is also going to be available on iTunes, music.jp, mora, and animelo mix.
The album is available for $5.99 or $0.99 per track.
Tracklist:
1. [Super Mix] Dancing on the Road (User Disk Creation)
2. [Super Mix] Omen = Styx = (Opening)
3. Trading Town of Redmont (Town)
4. The Boy's Got Wings (Stage Entrance)
5. A Searing Struggle (Ruins – Lava Area)
6. Snare of Darkness (Tigray Quarry)
7. Valestein Castle (Valestein Castle)
8. The Beat of Destruction (Galvaran Island)
9. The Strongest Enemy (Final Boss – Galvaran)
10. Morning of Departure (Town – Ending)
11. Wanderers from Ys (Ending)
You can purchase this album digitally here.
If you wish to support this site at no extra cost to yourself, you can purchase the albums through my Amazon Affiliate account here.