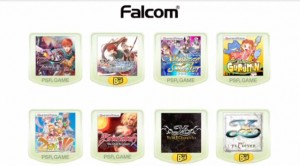 As of 3/9, the following Falcom PSP titles should be available on the UMD Passport Program:
Ys the Oath in Felghana
Ys vs Sora no Kiseki Alternative Saga
Vantage Master Portable
Gurumin
Zwei!!
Brandish the Dark Revenant
Ys I & II Chronicles
Ys Seven
The Legend of Heroes Sora no Kiseki FC
The Legend of Heroes Sora no Kiseki the 3rd
* note, Sora no Kiseki SC is not available on PSN. I've also noted that Zero no Kiseki, nor Ao no Kiseki are available for the passport program.
I'll try to find out the passport pricing on these, and update the post as I find that information.
Each of the games are 1,000 yen for the passport.