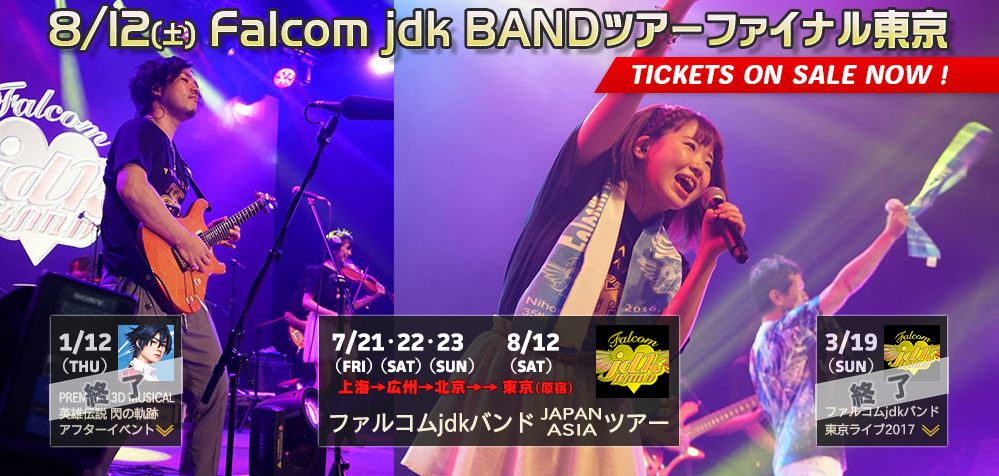 EDIT on 7/31/2017: Falcom has made new products for the concert available! I've added them to the article.
The Falcom jdk Band has been touring through China over the past week, having concerts in Shanghai, Guangzhou, and Beijing on the 21st, 22nd, and 23rd. They will be having a concert at Astro Hall in Tokyo on 8/12 to mark the end of the concert tour.
Songs expected are GENESIS BEYOND THE BEGINNING (Ys Origin), FIRST STEP TOWARDS WARS (Ys I), TO MAKE THE END OF BATTLE (Ys II), The Whereabouts of Light (Trails in the Sky), Aoki Negai (Ao no Kiseki Evolution), Pulse Towards Tomorrow (Trails of Cold Steel), I'll Remember You (Trails of Cold Steel II), and others.
Tickets are currently on sale from e-Plus now for 3900 yen, with an additional 500 yen if you're interested in adding a drink to the ticket. Doors open at 17:00 and the concert begins at 18:00.
Falcom has also revealed that they will be selling goods at the concert. You can find details of the items being sold behind the cut.
Thors II Patch
1500 Yen
Mishy Towel
1200 yen
Mishy T-Shirt
Concert Exclusive Adol Red
2200 yen [ S / M / L / LL ]
Mishy T-Shirts – Pink / Sky Blue / Black Cat / Vanilla
2200 yen [ M / L / LL ]
Falcom Title Button Collection series 2
Complete set 20 buttons + 2 secret buttons
3 buttons for 500 yen
Size: 38mm. Sets are random. No full set available for purchase
Falcom Title Button Collection series 2
Complete set 20 buttons + 2 secret buttons
3 buttons for 500 yen
Size: 38mm. Sets are random. No full set available for purchase
Wristband and Sticker sets. 1000 yen each.
Black w/ JDK Band Logo Sticker. | Pink w/ Ys VIII art sticker | Blue w/ Sen III art sticker
Ys VIII Lacrimosa of Dana Original Soundtrack Complete CD
3500 Yen
Ys VIII Best Selection CD
1800 yen
We Love Sora no Kiseki CD
2800 yen
Sen no Kiseki III Acrylic Smartphone Stands
7 Designs in Total
1500 yen each
Ys VIII Lacrimosa of Dana – Two Way Tricot Towel
2500 yen
Sen no Kiseki Thors Military Academy Business Card Case
3000 yen
Mishy Tail Strap
2200 yen
Mishy Cap
4000 yen
Ys VIII Lacrimosa of Dana iPhone 6/6s Case
2000 yen
Mishy Coin Purse
2500 yen